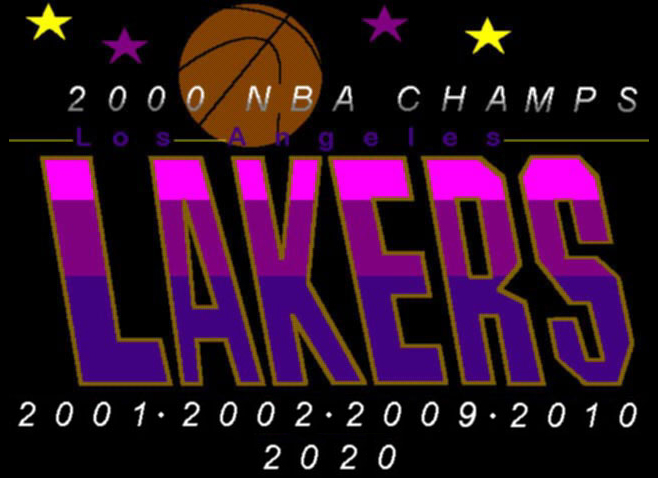 ---
MAIN / INDEX / GAMES / UPDATES / ASK PARMAN! / VIDEOS / FRIENDS' GALLERY / GALLERY 2 / FAVORITES / FICTION / DRAWINGS / LINKS / AUTOGRAPHS / FILM NOTES / NAME IN SPACE / CREDITS / STOCK PHOTOS FOR SALE







JUMP TO: June 21, 2010 | June 17, 2009 | June 14, 2000 | June 19, 2000 | June 21, 2000





CLICK ON THUMBNAILS TO ENLARGE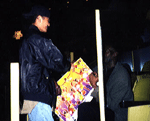 Me getting an autograph by former Laker Orlando Woolridge (1999)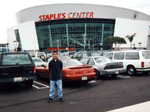 Me at STAPLES Center in Los Angeles for the first time (2000)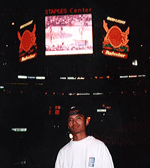 Me inside STAPLES Center (this was when Game 6 of the 2000 Western Conference Finals was being televised live from Portland)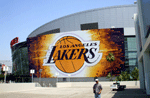 At STAPLES Center two days after the Lakers won the 2009 NBA Championship (against the Orlando Magic)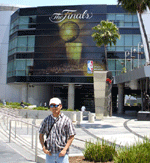 It's been 7 years since the Lakers last emerged victorious in the NBA Finals...(against the New Jersey Nets in 2002)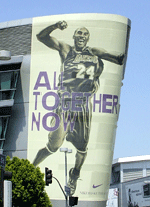 At STAPLES Center two days after the Lakers won the 2010 NBA Championship (against the Boston Celtics)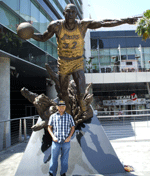 Posing in front of a statue of Magic Johnson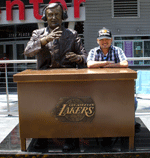 Posing next to the statue of late Lakers broadcaster Chick Hearn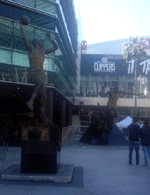 The statues of Kareem Abdul-Jabbar and Magic Johnson (2017)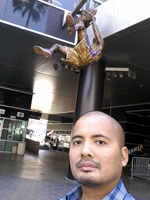 Taking a selfie with the statue of Shaquille O'Neal (2017)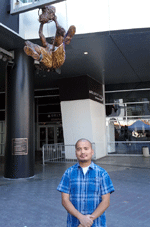 Taking another photo in front of the statue of Shaq




VICTORY PARADE: June 21, 2010: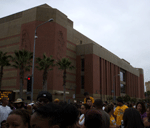 Fans gather outside USC's Galen Center to watch the Lakers' victory parade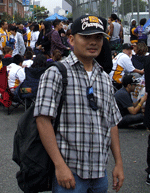 Waiting for the parade to start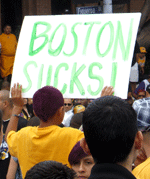 Daaamn straight...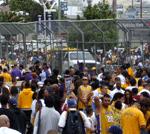 More than 65,000 people would show up in downtown Los Angeles to watch the parade...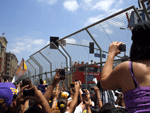 The NBA champions are about to drive by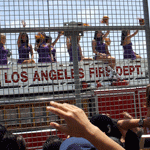 The Laaaker Girls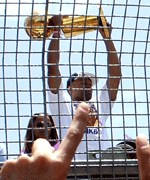 Derek Fisher shows off the NBA trophy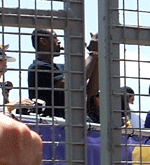 Ron Artest lights up a stogie...in case you couldn't tell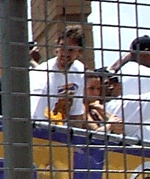 Pau Gasol and his girlfriend (to his left)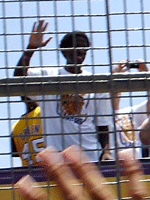 Former Laker A.C. Green waves to the crowd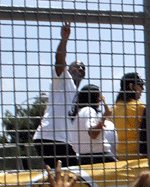 Magic Johnson waves to the crowd

The convoy drives away...marking the end of the parade and the Lakers' 2009-'10 championship season




VICTORY RALLY: June 17, 2009: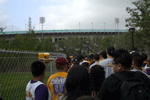 Fans wait to enter the Los Angeles Memorial Coliseum to attend the Lakers' victory rally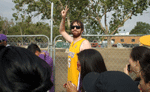 While waiting to enter the Coliseum, fans are visited by Pau Gasol's long-lost brother. Haha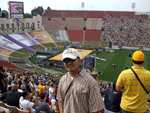 Finally inside the Coliseum...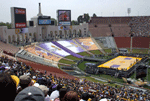 Waiting for the celebration to begin...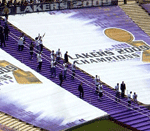 The 2009 NBA Champions enter the arena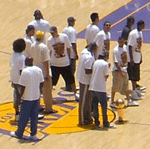 The NBA Champs and their trophy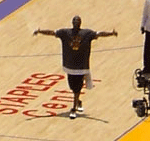 Kobe Bryant, the 2009 NBA Finals MVP, basks in his glory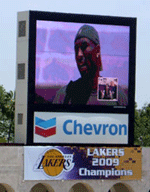 The Finals MVP addresses the crowd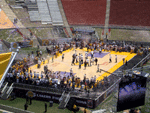 Confetti and streamers mark the end of the rally, and the Lakers' 2008-'09 championship season




2000 NBA Finals: June 14, 2000: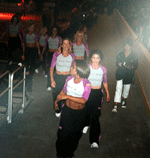 The Laker Girls head back to their locker room (this was when Game 4 was being televised live from Conseco Fieldhouse in Indiana)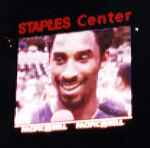 Kobe Bryant is interviewed after he turned up his performance in overtime of Game 4 (Lakers won, 120-118)




NBA Finals: June 19, 2000: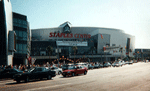 STAPLES Center before Game 6 of the 2000 NBA Finals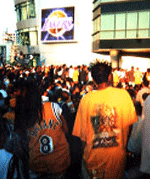 A large crowd gathers in front of the arena's exterior Jumbotron to watch the game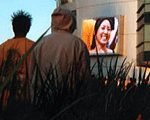 Figure skater Michelle Kwan, who is inside the arena watching the game, is shown on the Jumbotron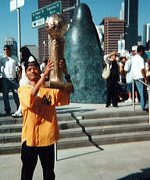 Me holding a makeshift championship trophy (Ignore the fact I'm wearing a Yankees jersey...I had to wear something yellow that day, ya know?)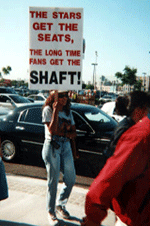 A "disgruntled" Lakers fan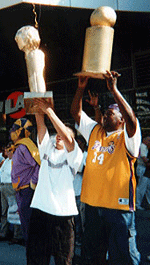 My friend Walter (left, in the white T-shirt) and another guy displaying their homemade trophies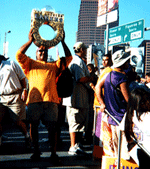 A fan holding a cool-looking championship ring that he made (Too big for my finger, but I'd still take it

)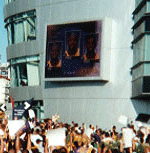 The crowd cheers as the Lakers' starting lineup is announced on the Jumbotron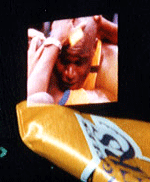 Shaq hugs a teammate after the Lakers beat the Pacers, 116-111, to win the NBA title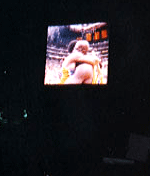 Bryant and O'Neal congratulate each other on the championship victory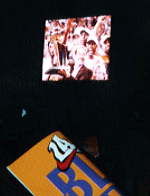 Laker owner Jerry Buss holds up the NBA championship trophy




VICTORY RALLY: June 21, 2000: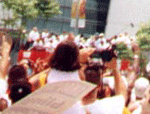 The red double-decker bus carrying the NBA Champions arrives at Staples Center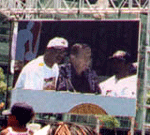 Chick Hearn and his fellow Lakers broadcaster Stu Lantz begin the rally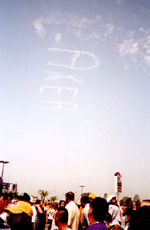 A skymessage that's about to fade away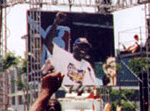 Laker forward Glen Rice gives a speech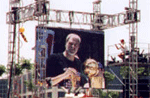 Coach Phil Jackson gives a speech he hasn't made since his days in Chicago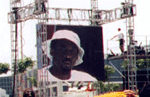 Gilligan--er--Kobe Bryant addresses the crowd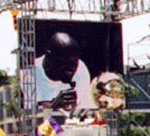 CAAANNN YOU DIG IT??? Shaq is the last one to give a few words to the crowd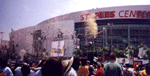 Confetti marks the end of the victory parade and the "Lake Show's" 1999-2000 championship season



---