---
MAIN / INDEX / GAMES / UPDATES / ASK PARMAN! / VIDEOS / FRIENDS' GALLERY / GALLERY 2 / FAVORITES / FICTION / DRAWINGS / LINKS / AUTOGRAPHS / FILM NOTES / NAME IN SPACE / CREDITS / STOCK PHOTOS FOR SALE





NOTE: I know, I know. This page is pretty weak...but I only came to this game to see the Raptors' (now former) All-Star player make one of his spectacular dunks. Unfortunately, Vince Carter made only one dunk in the entire game, which just so happened to be an alley-oop dunk that ended up being his dunk highlight for the entire 1999-2000 season. Only against the Clippers can a play-of-the-year take place (Shaquille O'Neal scored a career-high 61 points against the Lakers' cross-city rivals in a game this same month).

MARCH 8, 2000:
The Toronto Raptors defeated the Los Angeles Clippers, 95-94, after Vince Carter made the game-winning 3-pointer.
CLICK ON THUMBNAILS TO ENLARGE

Vince Carter (a.k.a. Vinsanity, a.k.a. Air Canada) prepares to shoot some free throws


Air Canada shooting a free throw


Hockey legend Wayne Gretzky at the game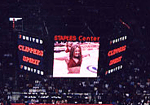 Clipper Spirit dancers...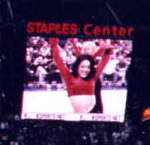 More Clipper Spirit dancers



---