MAIN / INDEX / GAMES / UPDATES / ASK PARMAN! / VIDEOS / FRIENDS' GALLERY / GALLERY 2 / FAVORITES / FICTION / DRAWINGS / LINKS / AUTOGRAPHS / FILM NOTES / NAME IN SPACE / CREDITS / STOCK PHOTOS FOR SALE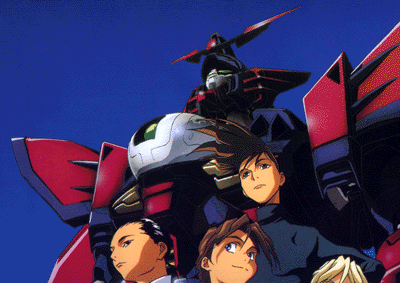 Name: Gundam Epyon
Pilot: Miliardo Peacecraft (a.k.a. Zechs Merquise)



Colony: Earth
Height: 17.4m
Weight: 8.5 Tons
Model Number: OZ-13MS
Fighting Ability: 160
Weapon Ability: 140
Speed Ability: 160
Power Ability: 150
Armored Ability: 140
Armaments: 1x plasma sword, 1x heat-rod, 1x shield

(Oz's mass-produced mobile suit Leo is rated at 100 in each category)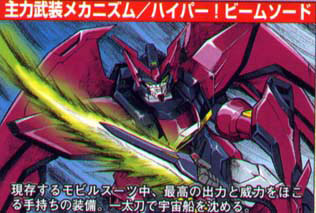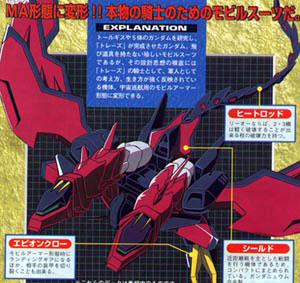 Why the Epyon is the Mother of all Gundams:
Just by having the color of blood* alone makes it look cool (sorry, do I sound sadistic to you? )


It's quick (CASE IN POINT: In one episode, Zechs flies this puppy past Duo and Quatre's Gundams when they were racing to prevent a space "barge" from blasting them to pieces)


It looks extremely awesome in bird mode (or should I say dragon/phoenix mode?)


It comes equipped with the Zero System (not even an 'innocent' space colony is spared from its enemy-searching/annihilating wrath)


Its beam saber can take out an entire space station (as in the case of the space barge that Duo and Quatre couldn't get to as stated above)


Two simple words: HEAT ROD (the mother of all Gundam weapons)
DEATHSCYTHE HELL / NATAKU / WING GUNDAM / WING ZERO

* -"Color of blood" i.e. RED. Actually, Epyon is more of a purplish color, but I said red just to make a point.


GUNDAM WING is the respective property of

Sotsu Agency Sunrise ANB
Bandai America, Inc.
---